Pixelator
A downloadable tool for Windows, macOS, and Linux
Pixelator is a smart software to convert images into pixel art sprites and cover arts. With Pixelator you can use any source picture to easily generate Pixelated graphics for games or posters.

What is it good for?
Making good pixel art for a game can sometimes be hard, especially when you have limited time and resources. Pixelator help you generate quality pixel-art sprites using the following 3 techniques:
Generate: convert real images into pixelated sprites to generate lots of content, and fast.
Reuse: turn different art styles into the pixel-art style that match your game, and unlock otherwise unusable resources.
Create: paint in your own style of choice and convert it into pixel-art. You no longer need pixel-art skills to create pixel art!
Note:
To use this tool commercially you need to purchase a license from:
http://pixelatorapp.com/buy.html

If download doesn't work please try here:
Download
Click download now to get access to the following files:
Pixelator 1.0.3 for Mac OS
Pixelator 1.0.4 for Windows
55 MB
Pixelator 1.0.4 for Linux
55 MB
Comments
Log in with itch.io to leave a comment.
can i import images for my personal gam
Itch version working in Ubuntu 18.04. Nice.

Download version has a some miss informations. Program say update available. version 1.0.5 is not updated. Never version 1.0.6 version is available. But 1.0.6 version not found in download page in Linux only Windows.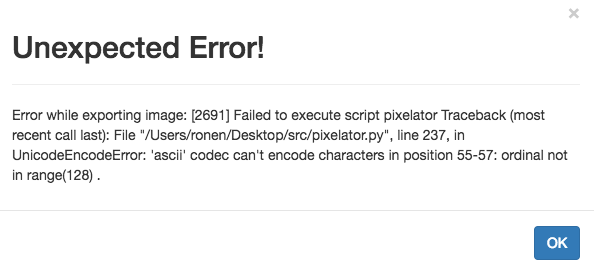 An error occurred exporting the image in MacOS,How can I solve this problem?
I there is no '/ Users/ronen/Desktop/SRC/pixelator py' this path.
Hi Xso,
Thank you for the bug report, I tested and it happens when you give names in language other than English, its a common Python-2 related issues... Please try to give your files a name in English, you can rename it later to whatever you like.
Also in the future please email me about issues (the email is on the site), that's the best way to get support.
Thanks!
Please upload Window file wersion
There was always windows version, updated it now to newer version if that's what you meant :)